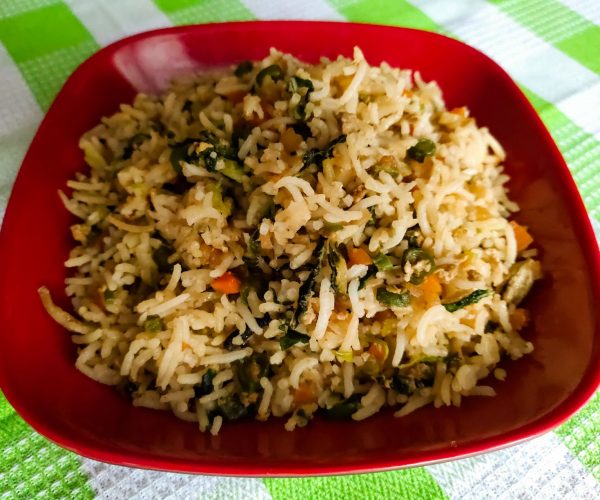 Basmati rice – 1 cup (250 ml)
Ghee/Butter – 1tbs
Cloves – 4
Cardamom – 3 pods
Bay leaves – 1
Cinnamon stick – 1 medium size
Water – 2 cups
Lemonjuice-1/2 tbsp.
Salt- ½ tbsp.
10. Ghee/Butter – 2 tbsp.
11. Vegetables – Cabbage, Carrot, Beans, Spinach, Onion –  2 tbsp. each
12. Ginger garlic paste- 1 tbsp.`
13. Salt-1/4 tsp
14. Coriander leaves- 1 tbsp.
15. Mint leaves- 1 tbsp.7.Sesame oil- 2 tsp
16. Brown sugar- 1tsp
Take 1 – 9 ingredients in a pressure cooker and cook until one whistle sound in medium flame. Or cook it in the rice cooker . If you are using sauce pan it may take 8-10 minutes to cook ¾th and filter it and keep aside to cool down.
Meanwhile heat a pan and add ghee and when it gets warm, add ginger garlic paste. Sauté it until the raw smell goes.
Now add all the vegetables, salt, brown sugar and Sauté it in medium flame for 2 minutes.
Mix cooked rice with along with it and Sauté for 1 minute.
Finally garnish with chopped mint leaves and coriander leaves and sprinkle with sesame oil.
Notes: You may add cashews, raisins along with veggies.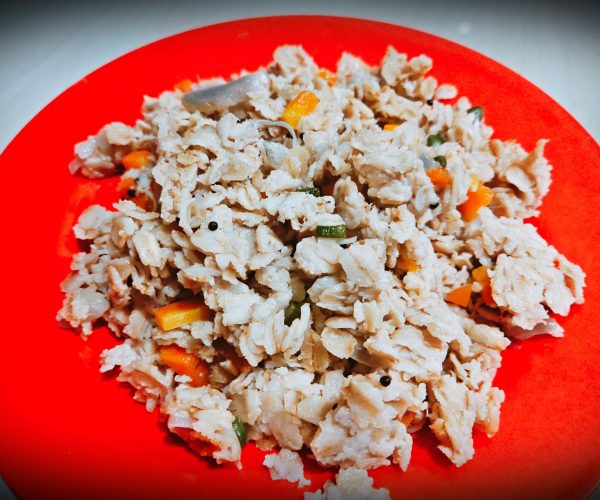 Uppumav is a classic dish for south Indian breakfast or a snack
Oats (dry roasted) – 1 & 1/2 cup
Hot water – 1 & 1/2 cup
Oil – 1 tbsp.
Black mustard seeds – 1 tsp
Green beans – ½ cup
Carrot – ¼ cup
7. Ginger – small piece (finely chopped)
8. Onion – ½ (finely chopped)
9. Curry leaves – 1 string
10. Grated Coconut – ½ cup
11. Green chili (optional)
12. Salt
Heat a pan. Add oil and wait until it get hot. Then add black mustard seeds, curry leaves, ginger and green chili, saute for 1 minute.
Add all the vegetables and salt, saute for 2 minutes.
Add oats and water into it and mix well. Close with a lid and keep it in low flame for 5 minutes.
Now add coconut and mix well. Here you done with healthy and tasty oats upmav.
Notes:
According to different brands of oats, the cooking time and amount of water may differ.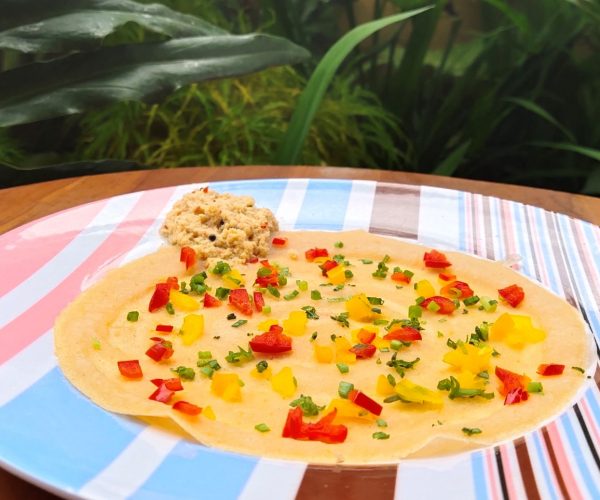 A yummy South Indian pancake
Whole wheat floor- ½ cup
Semolina – 1/2 cup
Tomato – 1
Ginger – small piece
Curryleaves – 4 leaves
Salt
7. Water – ½ cup & 1 tbsb.
8. Spring onion (optional)
9. Capsicum (optional)
Add 1- 7 ingredients into a blender and blend it into a smooth dough
Now heat a pan and pour 3 tbs of dough and spread it to thin, round dosa/ pancake
Spread some capsicum and spring onion over the pancake
Close it with a lid until it cooks and then take it out from the pan. Dosa is ready to serve.
Notes: Carefully add appropriate amount of water to make a medium loose dough.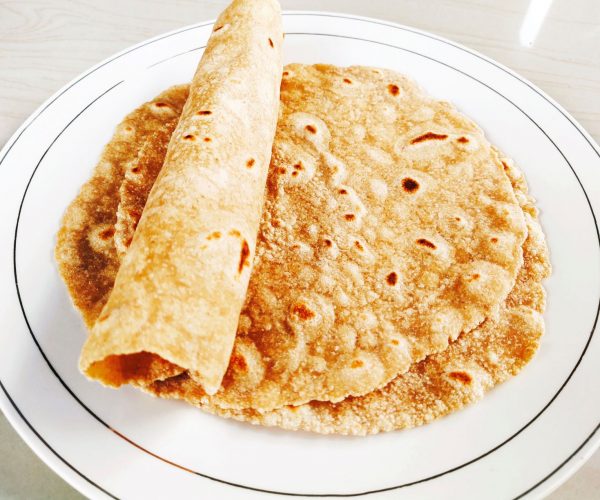 Yummy soft unleavened Indian flatbread
Oats – 1 cup
Whole wheat floor – ½ cup
Water – ½ cup + 1 tbsp.
Salt (to taste)
Oil – 2 tsp
Finely powder the oats and well mix with wheat floor and salt.
Take water in a wide bowl and add oil and salt into it.
Now slowly add the powder and mix it. You will get a dough which should not be sticky on your hand.
Give a resting time of 15 min – 2hour.
Now make small rolls and spread into a shape of pancake on table top with the help of a roller.
Heat a pan and cook the chapatti's by tossing each side
Notes:
You may use ghee for making the dough or spreading on chapattis
You can make chapatti with whole wheat floor itself