Namaste,
We, AyurVaidyas, are a platform for healing and supporting people through Ayurvedic and Yogic Wisdom.
Our Ayurvedic physicians, Dr. Remil Mannilavalappil and Dr. Anjali Variar, born and brought up in Kerala – The home of Ayurveda, India. They completed their Ayurveda graduation from Rajiv Gandhi University of Health Sciences, Karnataka, India. After the completion of five and a half years course, owing to their desire and thirst for knowledge and interest in healing, both of them decided to practice under different Gurus, who are masters of the eight branches of Ayurveda mentioned in classical texts and who followed Ashtavaidya tradition of treatment. Then they combined all the knowledge together into their practice. After completion of the course they associated together for propagating the knowledge of Ayurveda to maximum people around the world.
Dr. Remil Mannilavalappil, B.A.M.S (Ayurvedacharya)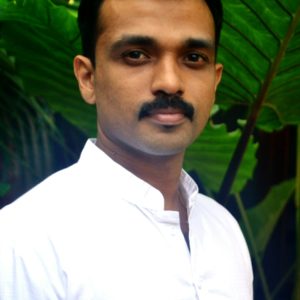 Dr. Remil Mannilavalapil, born and brought up in Kottakkal, a well known destination for Ayurveda in Kerala. He was the first Ayurvedic doctor in his immediate family circle. His interest in the field of science coupled with the support and inspiration from his parents motivated him to enroll in the persuit of the Ayurvedic Course (B.A.M.S). 
Dr. Remil did his Ayurveda graduation degree of 5 ½ years from Rajiv Gandhi University of Health Sciences, Karnataka, India. After completing the course he served his internship with a few well known Ayurvedic Hospitals. He also studied 'Vishavaidya' (Ayurvedic Toxicology) from a traditional Ayurvedic family in Thrissur, Kerala.
He took training under a number of geniuses in Ayurveda during and after his graduation. His carrier got a breakthrough under Vaidya PMS Raveendranath, who is well-versed in Ashtavaidya tradition of treatment. Two years experience under him, as a residential trainee, equipped Dr. Remil with Panchakarma, Herbology and Ayurvedic pharmacology. Above all he got wonderful opportunities to get associated with many Ayurvedic geniuses and patients from different parts of the world during this period.  This experience gifted him the chance to work with a well-established Ayurvedic Health Centre in Bali, under the recommendation of his Guru himself. Since 2014 he has been working as an Ayurveda physician in Bali.
With his keen interest in learning, he further searched for various options and approaches in the field of healing and teaching. He achieved excellence in Ayurvedic Marma therapy, Pranayama, Meditation, Acupressure, Chinese Acupuncture and Cupping therapy. His passion for teaching motivated him to encourage, teach and train people to become Ayurvedic therapists and healers. He has taught several Yoga student groups at different Yoga Schools in Bali.
 All these experiences, nearly 15 years of learning and practicing in the field of Ayurveda, made him very confident and a well respected physician. His kind, calm, positive nature and holistic approach on healing helped many people on the path of recovery.
Dr. Anjali Variar, B.A.M.S, PG Dy
Dr. Anjali Variar was born and brought up in a family that followed Ayurveda as a part of their routine. Her interest towards medicine and healing started as a kid and she learned 'Sanskrit' which is the language of Ayurveda. She got opportunities to see her grandparent's practicing Ayurveda and to visit the Ayurveda center, next to her home, where her mother was working. With the support from her parents and a goal in the mind she went for her Ayurvedic studies (B.A.M.S).
Dr. Anjali did her Ayurveda graduation degree of 5 ½ years from Rajiv Gandhi University of Health Sciences, Karnataka, India. After the course she went back to the same Ayurvedic hospital, where her mother was working, for the Internship. Under the guidance of Dr. Devan Namboodiri, an amazing genius in Ashtavaidya tradition of treatment in general medicine and gynecological and pediatrical issues, she acquired the skills during her two years of experience with that institution. Later she worked as a medical officer in an Ayurveda clinic in Kerala, along with her private practice at home.
Dr. Anjali is a true believer in Yoga and with her passion for teaching Yoga, she went for her post-graduate diploma in Yoga from Annamalai University in India.
As a firm believer in Ayurveda, her motto was "Everyone should learn Ayurveda and adopt it in their life for a better living". She married an Ayurvedic doctor, Dr. Remil Mannilavalapil, to work together to fulfill her motto. As a mother of a child, she is expert in pre and post-natal care, gynecological disorders and pediatrics. Her passion for learning took her to learn and practice Chinese Acupuncture, cupping therapy, Marma therapy, lymphatic drainage massages and guiding people on Pranayama, Meditation and Yoga nidra.                        
"Sarve Santhu Niramaya"- To keep everyone healthy by spreading the essence of Ayurvedic Wisdom to every home along with maintaining the authenticity and purity of Ayurveda.
Easy access, quick and prompt response for your health quires.
Propagating authentic knowledge of Ayurveda to world through our blogs and services.
Connecting people who are ready to transform their lifestyle and diet for healthy future.
Introducing people to the pure miraculous herbal world of Ayurveda.
Bring the interest of healthy way of cooking as per Ayurveda.
Our commitment to bring positivity and wellbeing to an individual and society.